Community
I am very happy to share with you that 20 Twenty Wealth Management will be sponsoring Josh Evans Soccer Schools for the next two years. I wanted to be involved in a club that promotes development on both a physical and mental level for children in the local area, I have been really impressed with Josh Evans, his team and the work they do.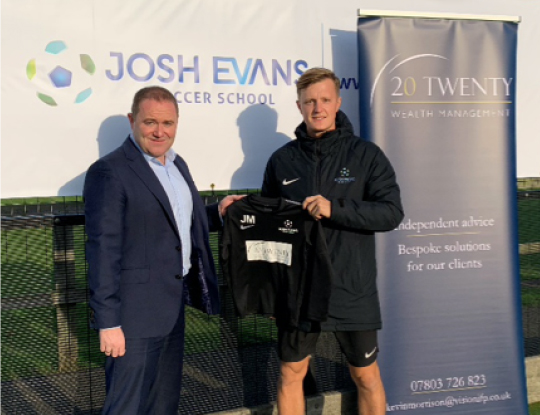 From Josh Evans:
We are excited about Kevin Morrison and 20 Twenty Wealth Management supporting us.
Josh Evans soccer school was started in 2011, we coach all ages and abilities from 4-13. We believe that every child will learn and develop if they feel safe and confident and receive the best coaching.
We now teach 3000 children a week in schools, after school clubs, 2 x technical development centres, an advanced technical centre, Futsal and 2 academies. We have had 20 players sign to professional academies.
We want to help players in all aspects of life, not just football. For our Monday and Friday night players, we provide them with a 'brain book' which is designed to aid with the psychological side of life. We want to help them with their self-confidence, resilience, dealing with setbacks, target setting and giving them feedback with what they need to improve.
We have 5 pillars that we base our sessions around: hard workers, learners, team players, movers and winners. We believe that these are key for children to learn and characteristics they must show in all areas of life.
We also want to bring academy coaching to all – we put our staff, when ready, into professional academies and some of our coaches have worked at AFC Wimbledon, Crystal Palace, Fulham and Brentford.
Be On It. Believe In It. Be You.
"We aim to create a fun, positive environment for children of all abilities."
Josh Evans. UEFA B/ FA qualified